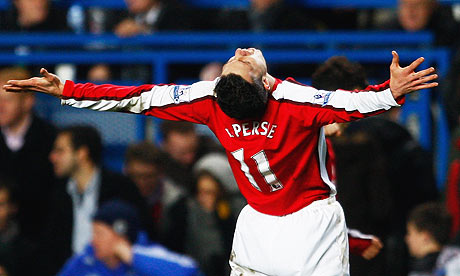 Can he will them across the finish line for a 15th straight Champions League?
While this past weekend's draw at Stoke could have been considered a point well-earned when combined with Newcastle's loss at Wolves, those of us who have been paying close attention to the club for the last few seasons can't help but get a sinking feeling given the team's performances over the last month. Three weeks ago I wrote about how
Arsenal needed to avoid the late-season swoon of seasons' past
if they wanted to be assured of a 15th straight season of Champions League soccer. Sadly, the graph below points out they are on the usual slump to end the season (click to enlarge)
What has been bailing the Gunners out a bit has been the equally poor play from Tottenham (Sunday's win against Blackburn not-withstanding), as well as a relatively large starting gap to Newcastle and Chelsea. However, even with Newcastle's loss this past weekend they and Chelsea have been running higher 4-match moving average PPM's for two matches now (see graph below). Chelsea may be the most dangerous of the remaining teams, riding
an 11-match unbeaten streak in all competitions
.
Chelsea and Tottenham are also the most threatening in terms of tie breakers. The Cann Table below shows just how close things are in the race for third and fourth as of Sunday's action . All three teams in 4th through 6th positions have a game in hand on Arsenal, but only Tottenham and Chelsea are close on goal differential. As
I said yesterday
, Chelsea's 6-1 destruction of QPR wasn't just about putting their Loftus Road rival on the relegation ropes. It was more strategic in nature in that it added massively to their goal differential for what will surely be a close race for the third through sixth table positions.
So how do things look for the Gunners?
First, it must be pointed out that they and Tottenham control their own destinies. Win out, and the two of them get third and fourth, with Tottenham waiting for the results of the Champions League final to know if they will be in next year's edition of the tournament or be in the Europa League for the second year in a row.
Even with matches against Norwich (home) and West Bromwich Albion (away), it is a bit much to expect the Gunners to win two straight matches given their recent form. If they were to simply maintain their current point scoring rate they would average 1.25 PPM and finish with 69 points (rounding up) on the season. That's equivalent to winning one match of the remaining two. Keep that as a point of reference.
Tottenham's win against Blackburn kept them at 1.0 PPM on a four match basis, but one might expect them to close the season much better than that. However, assuming Arsenal finishes with 69 points their crosstown rivals would have to either win all three of their remaining matches (Bolton & Aston Villa away, Fulham home), or win two and draw one with the hopes of scoring five or more goals than Arsenal over the same time period to finish in third at season's end. This is doable but would require Spurs to average 2.33 PPM - something they haven't done since mid-season.
Where things get interesting is with Newcastle and Chelsea. Newcastle could claim third with a finish similar to the one described above for Tottenham except that they
must
win all three of their remaining matches as they're too far behind on goal differential to win a tie breaker. Chelsea is in a relatively similar position, as they would be eight points behind Arsenal with three matches to play if Arsenal played to their average form the rest of the way. This makes Wednesday's clash between Newcastle and Chelsea an important decider in how tight the race will be for third. A win for one team, and the best the losing team can reasonably hope for is fourth position while the winner keeps the dream of guaranteed Champions League play alive. A draw means both teams are likely settling for fourth at best.
So let's recap:
Lose both matches, and Arsenal stays at 66 points. In such a scenario it's very likely they get passed by one, if not two, clubs below them and either must count on Bayern to beat Chelsea to get into the Champions League or know before the season's end that they will be playing in the Europa League with a finish in fifth.
An Arsenal win and loss (essential holding form from the last four matches) in the final two matches of the season makes it reasonably unlikely that they finish below third.
An Arsenal win and a draw puts their point total to 70. With three matches to play, only Newcastle and Spurs would be able to catch them and they would have to win all three of their matches to do so. There is no way Chelsea can catch Arsenal under this scenario.
Win both matches, and Arsenal finishes third and earns a 15th straight year of Champions League play.
These various scenarios, along with the strength of the clubs in the remaining fixtures and a variety of past performances, leads the
Euro Club Index
to place the following odds on the likelihood of each club's finishing position.
It's certainly still Arsenal's third table position to lose, albeit
down by 1% from last week's odds
. Still, the race for third would have been over by now if they could have beaten Wigan at home or QPR away over the last month of play. There's a sense of unease for Arsenal supporters going into these final two matches that won't disappear until after the final match is played and the fate of next year's team in European competitions is understood.