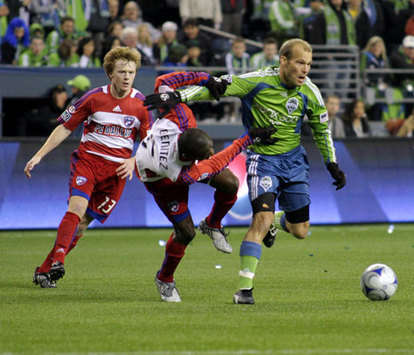 You Never Forget Your First Time
I recently added
The Ball Is Round blog
to my RSS feeds to get some non-statistical balance to my soccer blog library. They have a neat little subsite titled
My First Game
where fans the world over can submit recollections of their first live attendance at a soccer match.
The guys at the site were nice enough to post my recounting of my first
Seattle Sounders FC
match in October 2009. It seems so long ago with how much soccer I've watched and written about since then, but in reality it was only slightly more than two years ago. Writing about such an event helped force me to take stock of what I've witnessed over the last three years of watching the Sounders on TV and in person (my first match came after a full season of watching them on TV).
What started as an obsession my wife and parents thought would die out after a few months has pretty much become a lifestyle choice. I now read dozens of blog posts a week, write a few myself every month, purchase software to aid in statistical analysis of the game, dedicate hundreds of dollars towards Sounders tickets every year, and am attempting to add "published soccer writer" to my resume. Something this dominant in my life is approached with great seriousness.
While all of these changes in my life are things I appreciate every day, it is always good to be reminded why I dedicate so much of my time and resources to analyzing and writing about the sport. It's because I absolutely love standing for 90+ minutes in a stadium full of supporters observing a game that is simultaneously both simple and beautifully complicated. It's a passion I have been able to share with my wife and two daughters, one that bonds random people on the street into a family of 36,000 at each Sounders match. For Seattleites, it is a rare experience to behold given our awful 40-year relationship with professional sports.
Simon Kuper repeatedly reminds us to
take the game a lot less seriously
because that's what it really is - a game that doesn't really matter that much in the grand scheme of life. Sites like
The Ball is Round
and their My First Game subsite help provide a way for doing just that. Any words worth writing should be approached with at least a mild degree of seriousness, but providing a forum for recounting the child-like appreciation we had at our first match is a way to utilize such seriousness to enjoy the game for what it is.
I highly encourage you check out The Ball is Round site, and would love to hear recommendations as to other sites that provide similar outlets for writing.